Sunni Rogers
Manager/Partner
I have been with I Am Salon and Day Spa since 2009. As an Esthetician I spent many years in an ever growing field keeping up to date with the latest beauty and skincare products and services in order to better serve and educate my clients. It was here that I absolutely fell in love with the Aveda culture. In 2014 I partnered into the business and have stepped back from Esthetics in order to focus on managing the team. With an incredible group of like-minded people the team at I Am is truly exceptional. Besides embracing the Aveda culture we all work together by giving back to the community. Each month we pick a different cause or local charity and come together as a team to really make a difference. The teamwork and relationships built with each other, our clients and the community is what makes us an I Am family.
Meghan Garner
Assistant  Manager
I attended cosmetology school and graduated in 2005. I've always loved this industry and joined the I Am team in August of 2016 and feel truly blessed to be part of a staff that wants to make an impact not only in the beauty industry but locally by giving back to local organizations each month here, in my hometown. I honestly feel that we are not "just another salon/spa". We are energy-based people and when you walk in, my goal is for you to feel the warmth, education, positivity, creativity and tranquility we offer at I Am Salon and Day Spa.
Kathy Lopez
Salon Coordinator / Stylist
I joined the I Am team in May of 2017 and could not have felt more at home. I have worked in the beauty industry since 2013 and hope to always be a part of this industry. It is my mission to make every person that walks through the front door feel as welcomed and appreciated as I did on that first day. Whether you are booking an appointment or picking out retail, it is my goal to make it an enjoyable experience from start to finish. I am excited to grow with the I Am team and work in a place that fuels my passion.
Amanda Young Esthetician / Makeup Artist
Amanda was born and raised in Annapolis, Maryland. She spent her younger years as a ballet dancer and went professional at the age of fourteen. She learned how to apply theatrical makeup at that time. Amanda attended Miller-Motte College here in Wilmington and graduated Suma Cum Laude, at the top of her class.
Amanda has been an Esthetician since 2006 and has been in the beauty industry for over fifteen years. She loves doing professional makeup for weddings and other special occasions. She excels in skin care and her speedy yet efficient Brazilian waxing.
She is currently enrolled in school to get her degree as a Nurse Practitioner in the Dermatology field due to her love for skin care and superior maintenance.
Bonnie Briceno
Esthetician / Makeup Artist
In 2009, after leaving a career in Real Estate, I began a new career in the Beauty Industry. After working with Bobbi Brown, Lancome and Christian Dior, I came to Aveda and joined I Am Salon and Day Spa in May 2017.  I also love makeup and have worked as a freelance artist for many years. I enjoy treating all skin conditions and helping clients create a personalized home care regimen that addresses their specific concerns and skin care goals
Amanda Best
Esthetician / Makeup Artist
I am a Wilmington native who got her start in the beauty industry due to my love of makeup. I attended Miller-Motte Wilmington to obtain my Esthetics license and graduated at the top of my class. I then followed that passion to New York City for additional training at Chic Studios NYC to specialize in Bridal makeup. I feel I exceed my clients expectations and deliver a relaxing service or a quick and efficient wax! I'm excited to be apart of I Am Salon and Day Spa and the wonderful clients I will continue to work with.
Johntae Bailey
Esthetician/
Massage Therapist
I am a graduate of Miller Motte College with a triple license in Esthetics, Massage therapy and natural hair. Being a triple license holder I believe in creating a balance of health and beauty. My focus is always on bringing my clients the best experience while achieving results and relaxation. I am extremely passionate about educating and empowering my clients, on ways to better care for their skin, body, hair and overall wellness.
Lauryn Blele
Stylist/Nail Technician/Makeup Artist
I have been an artist since childhood. I graduated from Carteret Community College with my cosmetology license.  Being able to show creativity through hair, skin, and nails is a dream come true. From innovative and trendy hair color, to classic and ever-lasting makeup- I love it all. I feel privileged to be part of the team at I Am Salon and Spa and look forward to growing!
Madison Bryant
Stylist/Makeup Artist
I am new to Wilmington and ready to thrive in the cosmetology industry! I grew up in South Carolina and graduated from Legrand Institute of Cosmetology. Customizing looks for each individual client and making them feel gorgeous is my passion. I cannot wait to grow with the I Am team and meet all the new clients that will come my way.
Melissa Miller
Stylist/Makeup Artist
Melissa has been at I Am since 2012. She specializes in cut, color, makeup, and thermal smoothing Keratin treatments. Although she loves to work on all hair textures, she's very comfortable and knowledgeable with people with curly hair. She enjoys being able to use her creativity on a daily basis and making life-long relationships with her clients.
Brittany Bell
Stylist / Makeup Artist
Brittany was born and raised in Swansboro, NC. The hair industry piqued her interest at the young age of 13. Salons at that time weren't available to fit her funky style. She graduated from the Aveda Institute in Chapel Hill in 2006 and CCCC with her cosmetology instructor license in 2010. She has been with Aveda for 11 years and has taught at their institutes. She specializes in color, fashion color, short women's haircuts and textured hair.
Diana Medaglia
Stylist
I have had a passion for the hair industry my whole life. Getting to use my creativity to help clients feel and look their very best is one of my greatest pleasures. Having personally used Aveda products for many years, I find it exciting to be working with it as a professional. I am grateful to be working in the best salon in Wilmington.
Kurstin Bauknecht
Stylist
Kurstin is a North Carolina native whose love for the beach has recently brought her to Wilmington and the I Am team. She has been in the hair industry for over ten years and has a true passion for what she does. Kurstin has had the privilege of working with and training under some of the top artists in her field. Establishing and maintaining a strong relationship with clients is something Kurstin prides herself on. She enjoys customizing each cut, color, and service to all of her guests, ensuring they have the best experience possible.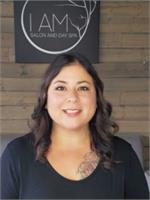 Shannon Camarro
Stylist
I have been with I Am Salon and Day Spa since October of 2013. I am originally from Greenville, NC and have been a cosmetologist since 2007. I also completed Esthetics School in 2014. I specialize in cut color and waxing. I love to be able to not only achieve what my guest is looking for, but make them feel great about their hair.
Monika Hershberger
Nail Technician/Hair Stylist
"I joined the Aveda team at I am Salon in March after moving to Wilmington in December 2016. I've been in the beauty industry for five years and I love it. I specialize in cuts, color, and nail art. I love using my creativity to make my clients happy. I am always up to try new things and new techniques. My favorite moment is getting to see the smile on my clients face when I am done. Come by and see me for your new look!"
Katie Camero
Nail Technician
After years of successfully owning and operating my own businesses, I decided to move into the relaxation industry. I am a graduate of Miller Motte's Nail Technician program and joined I Am Salon and Day Spa in 2012. My attention to detail is what has made me such a hit with clients. One of my favorite part of my job is my interaction with clients. It is so much fun spending time with clients and hearing about their lives if they choose to share it with me. It is also important to me to be able to work with older clients who sometimes need the foot and hand care more for health reasons than aesthetics.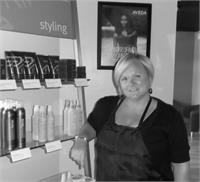 Kim Gowdy
Nail Technician
I grew up in Raleigh where I went to cosmetology school, and graduated in 2001. I moved to Wilmington in 2002. I'm currently back in school but you can find me in the salon on Saturday's doing nails and hair. I have been with I Am Salon And Day Spa team since 2012.
Deb Manor
Massage Therapist
Deb comes to us with years of experience and lots of enthusiasm. She graduated from the Finger Lakes School of Massage in NY and the Body Therapy Institute in NC as well as the Aromahead Institute in FL. She has been a licensed massage therapist, certified educator of massage and bodywork as well as an NAHA certified clinical aromatherapist and educator for over 17 years. "I am so happy to join the I AM team, here I can combine my passions of all modalities of massage and aromatherapy to achieve wellness of body, mind and spirit for my clients. My specialties are therapeutic hot stone massage, reflexology and aromatherapy. I look forward to meeting and working with you!"
Giandomenico Perazzoli "Giando"
Massage Therapist
There is a place in everyday life when you need sanctuary and time to yourself. This is where we will meet, through therapeutic massage touch becomes healing and calming, a familiar sense of well-being. I invite you to come and experience my work. I have been a licensed Massage Therapist for 14 years. I recently joined the "I AM team" and looking forward to meet in that place, where you take good care of yourself. Deep tissue, Myofascial release, preparing or recovering from sport activities, relaxation...I have something for everyone. Be well. With respect.
Gina is a native of Wilmington and has returned after living the past 20 years in Asheville, NC. Gina graduated from the Body Therapy Institute in 1994 and within her 23 years as a therapist she has received extensive training in Neuromuscular, Trigger Point Therapy and Deep Tissue. She specializes in integrative and therapeutic bodywork to provide a profound state of relaxation of body, mind and soul. Her background as a massage therapy instructor, trainer and spa manager has enhanced her career  through the years. Gina is very excited to be a part of the I Am Team and connecting with our Wilmington community.